Killorglin Driving School – Mid Kerry Tourism Information
Driving Schools in Killorglin we are the number 1 rated driving school in Kerry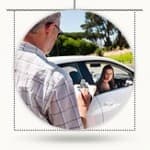 Killorglin Driving School teach
Driving Preparation test
Killorglin Driving School, Irish Driving Test Questions & Answers
Q1. Question: What shape and colour is a warning sign?
Answer: Diamond Shaped – Yellow and Black Trim.
Q2. Question: What should always be kept clean on your vehicle?
Answer: Lights – Reflectors – Windows – Mirrors – Registration plate.
Q3. Question: What does a single yellow line mean?
Answer: Parking prohibited during business hours.
Q4. Question: What is the rule about passing animals on the road?
Answer: Slow down, give plenty of room, do not sound your horn or rev your engine.
Q5. Question: What are the road markings for a no-entry street?
Answer: Solid white line followed by a broken white line.
Q6. Question: What vehicles are prohibited from using a motorway?
Answer: Learner drivers, motorbikes under 50cc, invalid carriages or horse drawn vehicles, cyclists and pedestrians. Anything that cannot reach 50kms.
Q7. Question: What does a broken white line mean?
Answer: A broken white line means overtake when safe to do so.
Q8. Question: Can your reverse from a minor road on to a major road?
Answer: NO. You can however reverse from a major road to a minor road, being very aware of the possible following traffic.
Q9 Question: What does a double yellow line mean?
Answer: No parking at any time.
Q10 Question:What is the sequence of traffic lights?
Answer: Green – Amber – Red in a circular fashion.
Regulatory Traffic Signs