The Kerry Bog Village is located half way between Killorglin and Glenbeigh on the main Ring of Kerry route.
Visit Kerry of yesterday and step back in time to the early 18th century to recapture the way life would have been at that time in Kerry.

Kerry Bog Village come see history at the Red Fox
The Kerry Bog Village gives people a insight into how people lived and worked in Ireland in the 18th-19th Century.
The village is the only one of its kind in Europe and is a heritage award winner.
It was extensively researched prior to being recreated. The dwellings that visitors see before them, are exact replicas of those used in Ireland in the 1800's. Many old sites were visited, ruins measured, and old documents consulted. One of the houses was moved from North Kerry and rebuilt within the Bog Village. The village is located in vast Bog land, visitors will learn about the bog, it's wildlife, and equipment used to extract the turf.
These are known as Blanket bogs and found wherever there is high rainfall, which is typically in western Ireland and also in mountainous areas. They are called blanket bogs because of their appearance – from a distance they appear like a blanket. With almost 1 million hectares of Ireland covered by blanket bog, it is far more common than the smaller-scale raised bogs. Contrary to popular belief, blanket bogs are essentially a man-made feature, if inadvertent and aided somewhat by the climate.
Kerry Bog Pony at The Kerry Bog Village
The Kerry Bog Pony is an old Mountain and Moorland breed of pony originating in Ireland, and traditionally used for hauling peat from the bogs, as well as for general work on small holdings. The breed has a reputation for gentle temperament and versatility.
Kerry Bog Village describing Kerry in 1800's Hundreds One of donkeys at Kerry Bog Village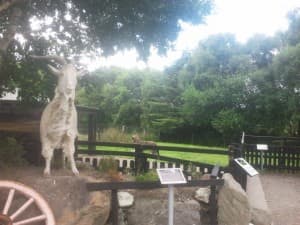 How To Find Us
The Kerry Bog Village is located between the towns of Killorglin and Glenbeigh in County Kerry and is easily accessible from all major routes.